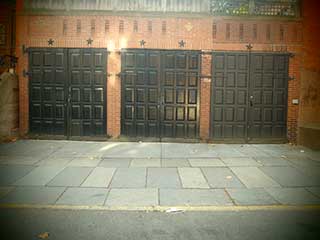 A wooden garage door can greatly improve the appearance of your home, but by getting one installed you are kind of making a commitment to maintain and look after it—otherwise, it will not last as long as it can. Wood is an organic material and is prone to rot, crack, and warp. It expands and contracts, and can absorb water and swell. Therefore, it is important to apply the right treatment to the wood in order to prolong the door's lifespan.
Basic Maintenance Steps

The number of extra steps required to keep your wooden door in a good condition isn't high, but every step is vital. Aside from usual basic maintenance such as lubricating moving parts and tightening nuts and bolts, wood requires stain and varnish. The surface of the door should be coated in layers of high-quality wood stain and varnish in order to preserve its natural look and add protection from the elements. If the application of these solutions isn't performed, it will compromise the longevity of the door. Wood is not as forgiving as other materials, like aluminum, for example.

Identifying and Treating Rot

Irregular or wrong maintenance can lead to the formation of rot. This problem needs to be treated as soon as possible in order to minimize the affected areas and the damages. The wood will start to change color to black, and will eventually disintegrate. When you notice any black areas on your door, sand them down to remove as much of the dead wood as you can. Treatments which are made to help restore rotten wood do exist, but sanding may be necessary even if these are applied. If the rot has made its way through a significant amount of the wood, it may be necessary to replace sections of the door or to chisel down the affected area and rebuild it with epoxy.

Dealing with Cracks and Fading

Exposure to weather conditions, in dry climates in particular, and UV rays can lead to cracks and fading if the wood is not properly protected. A suitable sealer aimed at your weather and climate can mend most issues such as this, but larger cracks or more extensive fading may require sanding prior to sealing. A tinted sealer may help restore the color of your door. Protecting your door from UV rays, salt spray where applicable, and other weather conditions can be done with a sealer. If the sealer is not applied in time, other measures such as sanding may be necessary. If the damage is done and rot starts to develop, sanding, chiseling and maybe even reconstructing certain parts with epoxy can solve the issue without the need to have entire sections replaced. If these instructions are followed, your wooden door will last a lot longer. Contact our team at Garage Door Repair Casa Grande today to see how our experts can help you.