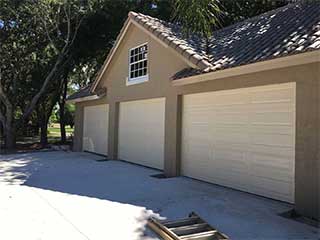 A complex mechanical system like your overhead door needs to be cared for properly in order to last for a long time. The regular maintenance service that our team can provide you with will make sure that all of its components are in a great condition and that it avoids a lot of potential issues.
The Hardware Parts
Your door panels, as well as your tracks and rollers must all be inspected carefully in order to ensure their condition is optimal. If it isn't, you can count on our team to repair any minor to moderate damage, or replace the affected component entirely. If your tracks are misaligned, we'll set them back into the correct position and prevent a situation where the door gets off track.
The Load Bearing Parts
Both your door cables and springs need some extra attention as well. They support the weight of the panels and effectively pull and lower the door up and down. That's why we'll examine them, adjust their tension as needed and, of course, replace them if they look like they're about to break. Regular spring maintenance is an excellent way to prevent dangerous problems from ever occurring.
The Electric Opener
As the motorized unit that powers the automatic movement of your door, it's only natural for your opener to require some TLC as well. Our technicians will examine its drive-system and rail, as well as its internal motor gear and circuit board. We'll make sure everything is in good working order, and repair anything that isn't. We'll also test the safety sensors, and make sure they haven't become misaligned. If they have, well, you already know what we'll do. We'll perform the required sensor realignment and make sure your door "knows" to reverse when something's blocking its way.
Now's The Time
Don't wait for something dangerous to happen. Contact our team at Garage Door Repair Casa Grande today and schedule a maintenance appointment that will keep your system in an optimal condition.
Our team can also take care of:
Garage Door Opener Maintenance
Genie Garage Door Opener Services
Galvanized Torsion Spring Installation
Extension & Torsion Spring Replacement