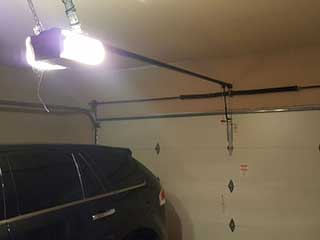 Before the invention of the electric garage door opener, people would waste a lot of time getting this complex and heavy system to open and close. Nowadays, as technology keeps advancing, homeowners can use their overhead door from quite literally anywhere on earth; anywhere with WiFi access, at least. The convenience these types of electro-mechanical units have added to our lives is undeniable. However, when they break down, we can feel like we're reverting back to those "dark ages". Not to worry, our team is here to help you go back to the future.
Some Potential Problems
The most common issues that your opener may experience is a broken motor gear, some trouble with its circuit board, or misaligned safety sensors. Our experts can take care of all of these issues. In fact, as part of our opener maintenance service, we will inspect these components, as well as the drive-system, the rail and the trolley, and make sure that nothing is getting too worse for wear. We'll perform any required sensor realignment or chain adjustment (providing that you have a chain-drive model, of course) to make sure that your opener doesn't start acting up all of a sudden.
Different Drive Types
We mentioned the chain drive before, but that is only one of three common drive system that modern openers can use. Screw-drive units consist of less moving parts, and therefore they require much less maintenance. They are also the fastest of the three, however they aren't the quietest. Belt-drive openers, though, are a different story. They are virtually silent and work very smoothly. Their only downside, really, is that they tend to be more expensive. As for the chain-drive models we mentioned, they are usually the strongest as well as the cheapest ones, however that comes at a cost, and that cost is a high noise output.
So How Do I Choose?
Well, no one specific drive-type is perfect for everyone, as there are certain factors like budget and garage structure that can come into play. There are also a lot of special added features that you would definitely want to consider before buying a new opener, like a backup battery system and Smartphone compatibility. Our experts can help you make an informed decision. We work with all of the major opener brands, like LiftMaster, Genie, Amarr and more, and we'll make sure you find the perfect model for your needs.
Anything And Everything
If you need our help with a new opener installation or you're having some trouble with an existing unit, our technicians at Garage Door Repair Casa Grande will be more than happy to come help you out. Contact us today.
Count on us when it comes to:
LiftMaster Garage Door Opener Repairs
Garage Door Opener Track Maintenance
Broken Garage Door Spring Replacement
Overhead Door Repair & Installation