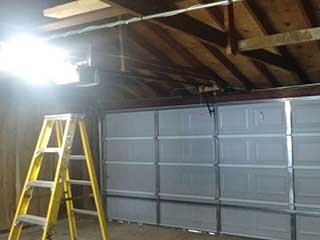 Proper maintenance can do more than reduce the amount of wear and tear damage that your garage door goes through. It can also prolong the lifespan of its various components, as well as the longevity of the system as a whole. Of course, there are only a handful of things you can do on your own, as any complex task, like spring or cable replacement, for example, will require an expert's assistance.
Tighten Every Little Thing

There are a lot of parts fasteners that are under a lot of stress each time your garage door is in motion. The screws, nuts, and bolts that hold things like the tracks in place must be retightened every so often in order to make sure that they don't get too loose. If they do, the tracks could gradually become misaligned.

Don't Neglect The Springs

If your system uses a torsion spring, then applying it with lubrication twice a year or more will ensure that it keeps functioning efficiently. Seeing as this component is actually responsible for physically lifting your garage door off the ground, doing what you can to relieve its working stress would be very beneficial. If you have a pair of extension springs installed instead, then inspecting their condition would help you detect when their timely replacement is due.

Clean The Tracks Regularly

Oftentimes, a garage door that got off track is the result of dirty or blocked tracks. If these components aren't clean and clear of debris then the rollers won't be able to move inside them smoothly, which could cause them to slip out. You should make it a habit to clean the area around your garage door as well as the tracks themselves once a month or so in order to reduce the chances of something like this happening.

Check The Weather Seals

You must inspect the condition of the bottom seal as well as the ones on the top and the sides. If they become too worn or torn, you need to get the weatherstripping material replaced. You should do this about once a year. No matter how clean you keep your door, if it the seals aren't in a good condition then outside weather can come to affect the inside of your garage.
Complex Problems Require A Professional
If you end up finding a problem while performing any of the aforementioned tasks, be sure to contact our experts at Garage Door Repair Casa Grande right away. Don't take needless chances.